Happy Friday, friends!
A few months ago,
I decided to start a package swap!
Swaps are so neat.
They are a great way to meet fellow bloggers,
and I mean,
who doesn't LOVE getting packages in the mail???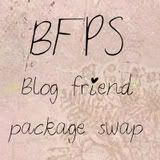 The swaps are going to take place every 3 months,
and each time,
the swap item will change.
The first swap took place this month,
and today we are linking up and showing off our goods!

This month,
I got to swap with 2 lovely ladies
(we had an odd # of swappers).
Rhiannon sent me this adorable necklace!
and Jennifer sent me some awesome bracelets and a zebra print scarf!
Thank you so much, ladies!
I've already worn every single item.
Now it's your turn!
If you took part in this swap,
don't forget to link up at the bottom of the post!
Want to do
Blog Friend Package Swap #2?
email me: afraley226@gmail.com
and I will send you all of the information!