It's that time, again!
Time to reveal all of our goodies from the BFPS!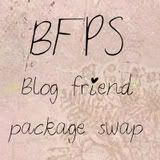 This time it was a holiday item/ornament swap.
My partner was the lovely and hilarious Whitney from
The Middle of the Street
.
I absolutely adore her.
You should go be her friend.
Here's what she sent me:
(Please forgive the horrible blurriness of this picture I took with my phone..my camera is MIA.)
Fuzzy socks (a girl's best friend- they have snuggled my toes on numerous occasions),
a secret chocolate orange (that I can't bring myself to eat because of it's secretiveness),
and a BYU elf ornament (that is hanging right smack dab in the middle of my tree).
Coolest presents EVER.
Thanks Whitney!!!
Especially for getting me the size 9-11 socks.
(Tall girl rules.)
You're the
bomb dot com
.
Now to all you lovely ladies who did the BFPS,
it's time to LINK UP!
If you want to add that little BFPS button to your post ,
just click on the "link up" tab at the top of my blog page.
Can't wait to see your posts!
I hope everyone has a fabulous day!